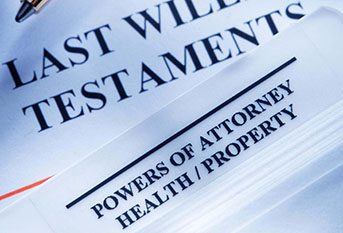 26 Aug

Making a Will and Power of Attorney during COVID-19
Making a Will and Power of Attorney during COVID-19
During these uncertain times, we have seen an increase in enquires from people starting to think about the future, what is next after COVID-19 and what may happen to their personal and financial affairs moving forward.
Our advice has been to consider making a Will and Power of Attorney. They are most often are done in unison together. The Power of Attorney provides protection of your wishes whilst you are alive and the Will provides protection of your wishes after you die.
Will
A Will is one of the most important documents you will prepare in your life. It sets out your wishes, enables you to appoint a guardian for your children, trustee and ensures your assets are distributed in accordance with your wishes.  It can also exclude family members or ex partners from inheriting from your estate.
Power of Attorney
A Power of Attorney allows you to appoint someone that you trust to make decisions on your behalf, especially where you are in a position where you are not able to do so i.e for medical reasons or travelling overseas. There are different types of Power of Attorney,  including those that can give the attorney the ability to operate your bank accounts, pay your bills, and sell or buy property (such as your house or shares) and finalise contracts of sale on your behalf.
While you might think a Power of Attorney is just for older people, the truth is most people would like to have the peace of mind of knowing we have someone who can act in our best interests if we aren't able to for example after a serious road accident or emergency overseas travel.
If a Power of Attorney is not made during the time you are mentally capable of understanding and giving power to an Attorney, then it cannot be made at all.  The alternative to this is if you do not appoint anyone while you had legal competence, then where required, VCAT can appoint an independent approved guardian to make these decisions on your behalf and manager your legal affairs and if no family member is suitable they may appoint a paid professional one.   But if a valid Power of Attorney is made during the time you are legally competent to do so, it comes into effect and lasts throughout your life time as soon as you become incapacitated.
Types of Powers of Attorney
Enduring Appointment of Medical Treatment Decision Maker – your attorney can make important medical decisions for you in case you lose capacity.
Enduring Power of Attorney for financial and legal matters– your attorney can make such decisions for you now if requested, or only if/when you lose capacity, with the option to include any lifestyle decisions about where you live.
General Power of Attorney-(non enduring) – this is designed for specific one-off situations and is not enduring but comes to a halt after a period of time or completion of event. For example if you to appoint someone to manage, sign off and do financial transactions for the sale of a home if you are overseas and want the power just for that purpose and it ends after that. So it can be just for a specific purpose or a specific time frame. If you lose capacity it will not endure but stop so cannot be used, unlike the other two enduring powers.
Given these documents are legally binding and require at least two witnesses and your signature which is usually done in person and with each other, we have outlined below your options to reduce contact during COVID-19.
Your Will and Power of Attorney can still be done during COVID-19
Although metropolitan Melbourne is now under stage 4 restrictions (August 2020) and regional Victoria is under stage 3 restrictions, that does not mean that you are locked down from getting your Will and Power of Attorney finalised.
The new restrictions do mean that law firms cannot operate onsite during the stage 4 restrictions however there is an administration of justice exceptions. Our team is still able to provide advice and assist you with preparing your Will and Powers of Attorney.
As our main concern has always been the health and safety of our staff, our clients and our community, Rigoli Lawyers staff have been working remotely since April 2020. But this has put us in a positive position with the experience to seamlessly assist you with all your estate planning all done online.
Remote signing during Stage 4
With new regulations brought in to assist with witnessing documents during this difficult period,  we are now able to do most of that signing remotely.
The introduction of the COVID-19 Omnibus (Emergency Measures) (Electronic Signing and Witnessing) Regulations 2020 allows lawyers to witness documents remotely. This means that we can continue to provide our full range of services to clients without the need to wait for the 6-week stage 4 restrictions to end.
If you would like to update or create a new Will, we are able to take your instructions through our easy to follow questions on our website. Just click the link here and follow the prompts.  It takes less than 20 minutes.
Once we have your instructions via the link, all we will need is a quick phone call to confirm your instructions, give you legal advice about your options and the documents to be prepared, and then we will be able to prepare your Will or Power of Attorney and sign it via an audio-visual platform.
This means you can prepare your Will or Power of Attorney, sign and witness, without leaving the comfort of your home.
Although Wills and Enduring Powers of Attorney can be witnessed remotely, the new Regulations do not cover the Appointment of Medical Treatment Decision Maker (formally known as a Medical Power of Attorney). Although we cannot witness this document remotely, we can still provide advice, prepare the document and provide you with information on how to get the document witnessed independently.
Probate and Letters of Administration during COVID-19
All probate and deceased estate matters are also able to run as normal without the need for you to attend our office.
The new regulations allow for Affidavits to be sworn and witnessed remotely. The Supreme Court Probates Office has also just gone digital allowing Probates to be lodged without the need to attend the Court from 1 July 2020.
All estate matters can continue as normal with little to no delays or disruptions to the process.
If you are wanting to get started on preparing or updating your Will or Powers of Attorney, please contact us for a FREE 30 minute consult to discuss your options.
For all other deceased estate matters please call us to book your FREE consultation on 03 8742 3199.