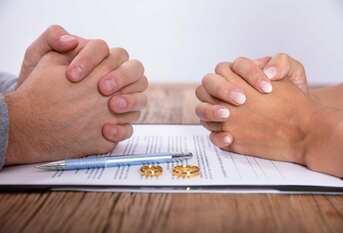 16 Sep

How does the divorce process work in Australia?
How does the divorce process work in Australia?
Going through a divorce or considering it can be one of the most stressful and emotional times of a person's life. The legal process can at times be intimidating, adding to this stress. Its important to have a brief understanding of how the divorce process works to help navigate through these challenging times to reduce stress and make it as straightforward as possible.
When to apply for divorce
In order to apply for a divorce, you and your ex-partner must have been separated for 12 months prior to making your application for divorce.
Along with this requirement you must also fit at least one of the following requirements:
be an Australian citizen
live in Australia and regard Australia as your permanent home
live in Australia and have done so for at least 12 months before the divorce application.
You can apply for a divorce together , which is called a joint application. If you are making a joint application, you do not need to go to court.
You can also apply for a divorce on your own which is called a sole application. If you are making a sole application and you have children are under the age of 18 who were part of the family prior to separation, you must go to court unless there are circumstances which stop you from attending.  Such applications have the further requirement of establishing that the childrens' arrangements are "proper".
Property and maintenance orders after divorce
Proceedings for property or spousal maintenance orders may be brought at any time after separation,  but require the special permission of the Court is required if brought more than 12 months after a divorce order.  There are special requirements before getting an extension of time to start property/maintenance proceedings more than 12 months after divorce order.
What a Court considers in divorce applications
In Australia the Family Law Act 1975  established the principle of no-fault divorce. This means that a court does not take into consideration why the marriage ended.
The only grounds for a divorce is that the marriage has broken down irretrievably. That is, that there is no reasonable possibility that you and your ex-partner will get back together.
In order to satisfy the Court that the marriage has broken down irretrievably you must have been separated for at least 12 months and one day.
If there are children aged under 18, a court can only grant a divorce if it is satisfied that proper arrangements have been made for them.  If you cannot establish this you may still be able to have a divorce granted if you can convince the court that the current arrangements are the best that can be made in the circumstances.  It would be wise to seek legal advice about such circumstances before you fill out your divorce application.
What if we get back together for a short time?
Normally you must have been separated for at least 12 months before you can apply for a divorce, but what happens if you were together for a short period of time during that 12 months of separation?
The Court allows for you to get back together once for up to three months without re-starting the 12 month separation period.
However, if you were to get back together for four months, this would restart the 12 month separation period. For example, if you are separated for four months, get back together for almost three months and then separate again for eight months, this will be considered a total of 12 months' separation. But if you get back together for four months then only the last 8 months would be counted as your separated period.
Living separately 'under the one roof'
In some situations, you may have separated but are still living together for various reasons eg financially can't afford to move out.
It is still possible to get a divorce even if you are still living in the same house after the separation as long as you lead separate lives.
The court will consider a  number of factors when deciding whether you separated 'under the one roof', such as whether you share meals and domestic duties, if you share money and bank accounts, if you are still intimate with each other and whether or not your friends and family would consider you as separated.
The procedure
If you apply on your own, you must arrange for the other person to be 'served' with the divorce application. Serving or 'service' is giving your ex-partner the divorce paper work so they know about the Court proceedings.
You cannot serve your former partner in person yourself but you can serve them by mail. The Family Law Courts have special rules about the service of documents and forms to prove that the other person was served.
It can take several months from the time you file for your divorce to the actual date of divorce and if there are problems with your application, it may take longer.
At the hearing if all paper work is in order and acceptable, the court will grant a divorce order.
Your divorce will not become final until one month after the hearing, and at that time the Court will issue you with  a divorce certificate.  In some circumstances you can apply to shorten the one month wait.  You are not legally permitted to remarry until the divorce order issues.
Complexities with some divorces
The divorce process is about dissolving the marriage (previously referred to as dissolution of marriage) and does not deal with other matters in dispute such as property or parenting of children.  It is usually a straight forward application, however there may be complexities if the application involves any of the following:
Other party lives overseas at no fixed address;
Other party cannot be located;
Separation under one roof is disputed;
Proof of marriage date is not ascertainable eg; married overseas in a war torn area that does not have adequate records;
Proper arrangements for the children are in dispute.
If your matter involves any of these issues its important to get legal advice before making the divorce application.
Take a look at our divorce e-guide for more information or take advantage of our free half hour legal consults. They can be done in person or via Skype or telephone conference. 
Call 03 8742 3199 or email info@rigolilawyers.com.au to make a booking and mention this article to claim your free booking.